Today was the last day of mandated teacher professional development. It has been a rough three days. I've started, stopped, revised, and reviewed this post multiple times. But I'm done trying to make it prefect so...here it is. (Edited to add: This is my first Day in the Life Post!) Please forgive any typos or incorrect grammar as I wrote this late last evening.)
Tuesday/Day 1 of Professional Development
This afternoon training was directed by the school district. Sessions were 90-minutes each and centered around grade levels. Each session was supposed to go over curriculum maps and give teachers time to collaborate with their colleagues from their school or other schools (if you wished). The first session I attended was "6th Grade Accelerated & 7th Grade Math Curriculum Maps." Initially I was ecstatic that the district was finally addressing gifted & talented sixth graders. In the past, there was no curriculum guide for gifted and talented math students. I looked forward to comparing what I had learned in my Gifted and Talented Curriculum course last spring to what they had. I already created an initial unit for the class and wanted to make sure it matched. I was also thrilled to see the presenter was our school's former math instructional coach; her informal observation feedback was always constructive. Just to note: I have been to several state curriculum meetings with members of our district's curriculum department and we've always talked about making the our curriculum more student-centered rather than teacher-centered.
So when the presenter opened the session with "We spent the summer changing some items in the curriculum," I thought this had happened. Sadly, it did not. What did occur was our district reordered the sixth grade units and tacked on several units of seventh grade. Normal sixth grade progression is to start with fractions (multiplication/division), which lead into ratios/proportions and percents, then expressions/equations/inequalities, followed by geometry, and lastly statistics. Our district has decided we should start with expressions, leading to equations/inequalities, then go to rational numbers (fractions), on to number systems (integers/graphing), than leap to geometry, end sixth grade portion with statistics, followed by ratios/proportions (7th grade), return to rational numbers (for 7th grade content), and finally introduce 7th grade expressions/equations/inequalities. Trust me my head hurts just having to think about this again. But maybe it's just me.
Someone asked why it was changed, but the question was ignored. Another teacher asked if we could just use the state guide if we wanted. We were advised against since a student that transfers from one school to another would miss out on that instruction. Several times the presenter stated they had worked hard for us over the summer and they were trying to make the standards easier to teach so the students do better on the state readiness assessment and the fall/winter/spring MAP tests. And that is really our district's number one priority: if we raise the test scores, then we will close the achievement gap. The state test last year was all multiple choice with calculator and non-calculator portions.
I talked to my math department chair and he said he wasn't impressed by the new guidelines either. He felt the same way as I do that we need to use inquiry-based learning instead of direct instruction. So we will be going against the district's guide. He heard in his session that the district is writing quarterly (multiple choice) benchmark assessments and they could be ready to take by the end of the first quarter. So that would mean my students would be formally assessed 7 times this year - not counting informal unit assessments I have to give for grading purposes. Augh! If the tests were more than just multiple choice, I might see a reason - but they are not. The last benchmark tests the district used were over 40 questions (all multiple choice/no calculator/not timed) and took between 2 - 3 days to complete.
The second session was "7th Grade Accelerated and 8th Grade Math Curriculum Maps." I'm not certain I will be teaching a 7th Grade Accelerated class but sat in the session any ways. The 7th Grade Acceleration guide was far different as well. In this session, it was asked if any pre- and post-tests had been created so teachers knew what to center their direct instruction on. We were sent the tests - which look very similar to the Glencoe chapter tests with minor word changes.
If I had not gone to the High Schools That Work conference and attended the Google Summit,, I would not be as frustrated as I am with the new guide. Having been introduced to the whole growth mindset (and Jo Boaler's mathematical mindset), I am seeing everything in a new light. I don't want to go back to direct instruction (I-do/we-do/you-do teaching model); I don't think I can. I won't. It's not what is best for my students.
Wednesday/Day 2 of PD:
In the morning, I attended a short two-hour training session on becoming a MAP testing proctor; this will allow our school to test more students at a time thus shortening the time we take to test. It was informative and I enjoyed it. I grabbed lunch on my way back to school.
The afternoon was school-based PD. We did a short hour-long introduction to the new literacy program the state wants all content areas to implement. All classrooms must have a 'library' that consists of three books per student (i.e., I will have 20 homeroom students so I would need to have 60 books that relate to 7th grade level math). The Department of Education will be conducting surprise visits to classrooms to check with compliance. Additionally we have to turn in a list of all the books we're using to the Literacy Instructional Coach at our school so she can verify that the books are appropriate for our students. I already have over 30 books that I've collected over the years so I'm not worried about this. My students read in class all the time: newspaper/magazine articles, excerpts from various science-fiction novels, or student journal entries.
The second hour-long section was supposed to be an overview about how to use the new discipline program (Review360). In the past, we wrote the referrals than sent the referrals to an administrator where they decided whether or not the referral was warranted and what (if any) consequences the student would receive. My first year teaching I wrote a TON of them; my classroom management sucked (I can't believe I was that naive back then). It would be a fair estimate to say it was close to a hundred. That was over six years ago. Last year, I wrote maybe six - most for cutting class or being in an off-limit area. Only one or two were for severe behavior issues that could not be addressed with a phone call home, teacher-student conference after class, or changing seat assignment. However, I know teachers on my floor that still write referrals simple because the student rolled their eyes at them or made a sarcastic/rude comment. We teach middle school - all the students do this (on purpose many times just to get a reaction from the teacher). So this new system doesn't bother me and I doubt I'll have to use it a lot any ways. If the students are engaged in meaningful activities, they won't have time to be disruptive. That's always when students act up - the days I don't have a plan. But it's not the students fault, it's mine for not being prepared (just like I always tell them to be).
Wednesday was also our first Welcome-Back-to-School/Open House night. It was fantastic! We had a packed cafeteria. I got to meet most of my 6th grade honor students (only 6 out of 23 didn't make it). A few seventh grades made it and many of them I already knew from summer school. Here one pic: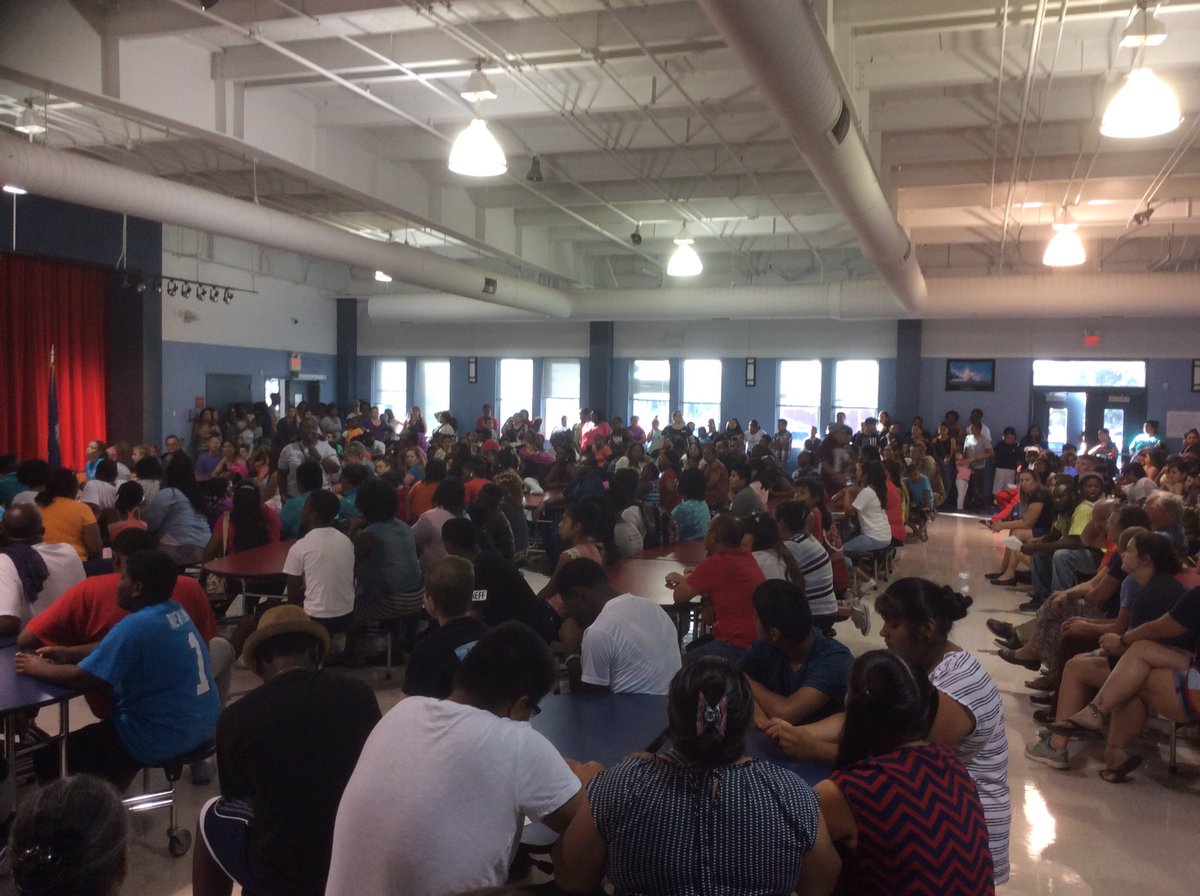 Thursday (Today)/Day 3 of PD:
Today wasn't professional development, but more like going over school policy. Our principal got it started by doing an announcement over the PA that everyone needed to be seated in the media center by 0830 so that we could get started on time. It was 0828. As usual when I got upstairs about five minutes later, there was only about the usual ten of us there. No principal, no assistant principal, no commandant. If you want us to be on time, shouldn't the leadership be setting the example? We started at around 0850. We went over student dress code and ID badges. Then we discussed the teacher dress code. This was mostly for the new teachers. Then we got into the Staff Handbook. Augh. Loads of inaccuracies: wrong end time for school, bell schedules had times from previous year, duty roster had incorrect week intervals and had teachers that no longer worked at our school still listed as having morning duty, etc. Luckily it had been sent to us electronically and not as hard copy. Again the issue of when do teachers release students from 8th period so they can go to their homerooms to be dismissed came up. That's always fun...not. There are two different procedures. High school students are not walked to the bus area or to the parking lot so they are just dismissed from homeroom to precede to the gym for sports practice, to attend after school tutoring with a teacher, or to leave campus for home/work. Middle school students must be lined up in the hall one line going to the bus area and another line to be taken to the parking lot for pick-up. This involves some time. My students can not leave the room until they have picked up any trash they dropped (every class tidies up before they leave any ways) and are lined up with bus rider first/car riders second so when I open the door the bus students go to the right and the car students go to the left. Three teachers are each assigned to a line that makes sure students do not run or push/shove their way done the stairs to the exit. We have to do this unfortunately because we've had students push others down the stairs in a hurry to get a specific seat on their bus. We also went over Emergency Drill Procedures (nothing new - everything is the same as it has been). We broke for lunch (went to Panda Express with two other colleagues).
We finished the day at a school-directed motivational rally. Every year the administration thinks we need to have a speaker come in and give us a 'pep' talk for the year. This one was okay; it was not the best they've hired but it wasn't bad. I would rather have spent the time putting the finishing touches on my room - that would have been a great motivator!
Tomorrow I will post my classroom photos and what I'm thinking of doing for my first week activities. :)